This system is
available with:
This system is available with:
Ladle and Converter Preheater & Drier
Vertical preheating systems are used for high speed heating and heat maintaining. These systems are often equipped with a gas/air burner with the MEFKON 2-stage radiation recuperator or with a gas/oxygen burner. Compared to a conventional gas/air burner, a 2-stage radiation recuperator can increase the efficiency of about 20% (learn more). An oxygen burner increases the efficiency of about 50%.
Vertical drying systems are used for tempering bricks and for drying monolithic refractory lining. The MEFKON Twin Blower secondary air system enables very precise and emission-optimised drying and tempering of dolomite bricks. The MEFKON Twin Blower system allows a burner turn-down-ratio down to 1:30 and thus slowest heating curves, starting from 120°C. In addition to the Twin Blower system, special additional oxygen injection systems for post combustion are available, for the tempering of pitch- or resin-bounded bricks, which allow almost complete post combustion of the evaporating components within the ladle (learn more). For a further reduction of environment pollution, ladles can be placed in a housing with rim suction system and post combustion inside the vessel.
MEFKON Burner Types for Vertical Vessel Preheaters
MEFKON represents the most innovative OAG Burner Technology. Due to highest efficiency and our Hydrogen H2-ready Concept, MEFKON ensures future-proof solution for their customers.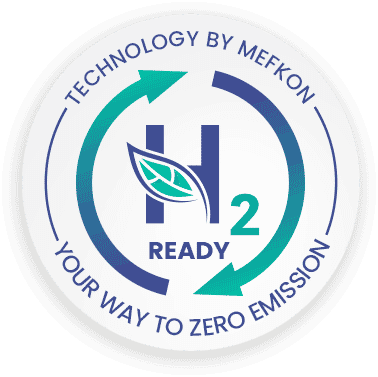 The MEFKON High Velocity Gas/Air Burner is a versatile standard burner for industrial furnaces and thermal processing equipment. The burner is characterised by its best controllability and its small NOx-values.
Gas/Oxygen
High Efficent Burner
The MEFKON Oxyfuel Burner has been specially developed for high-temperature applications and is characterised by its high efficiency, lowest emissions, easy maintenance and best controllability. Up to 50% energy and CO2 savings, compared to a gas/air burner system.
BEST CHOISE FOR THE FUTURE
BEST CHOISE FOR THE FUTURE
Oxygen/Air/Gas
Combi Burner
The MEFKON Combined Oxygen/Air/Gas Burner (MEFKON OAG Burner) is a special developed combination burner, which can be operated with pure oxygen or pure air. The MEFKON OAG Burner combines the benefits of gas/air & gas/oxygen systems and forms a future-proof solution especially for slowest temperature rises and highly efficient preheating & heat maintaining.